Update: Our home is in Total Remodel Mode since this post was written.  Everything has been expanded and changed.  This is still one of my most popular posts.  It revolutionized our thinking to: we CAN do it ourselves and not hire out.  We've made mistakes but still the costs have been minimal compared to hiring labor.
Please feel free to sign up for our RSS feeds or like our Facebook page.  We are constantly doing a new project!
I have shown this kitchen re-do before. So, many people are having a hard time financially I thought it would be worth to show it again. If you have seen it – "go on with your bad self", as my three year old would say. If you haven't, it is a cheap easy project to upgrade your cocina (Kitchen in Spanish – sorry the Homeschooling Mom came out).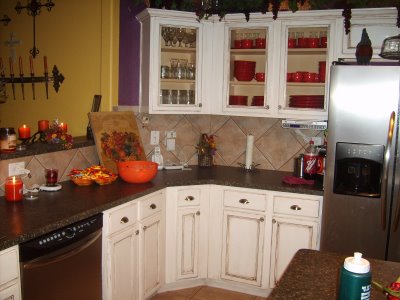 My inspiration:  Kitchen Redone Cheap but Beautiful
First of all, I can't believe I'm showing you our kitchen. But, it is an easy project if you would like a re-do that is inexpensive. I have more time than money so it works for me!
This was my inspiration! A friend did this to her kitchen and she is the one who gave me the instructions. Thank you J.!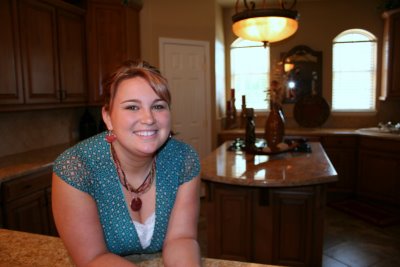 My precious Crafty Sister-n-law!
This is one, of many, of my precious sister-in-laws. (She might hurt me if she finds out that she is on here. So, nobody tell!) She is the one who gave me the "idea" for my kitchen.
Here are the before pictures!
Kitchen who needed a maid
Apparently, the "before" pictures were taken on a day that the maid had off. I honestly can say that my kitchen hardly ever looks this bad. This is just for effects. 😉
Kitchen – sterile without the clean factor

[easy-share buttons="no" counters=0 native="selected" show_fblike="yes"]

Don't mind the bleach on the floor. Notice the white cabinets, white walls, white sink, white everything!!! Yuck, unless you are into that! We happened to have gotten rid of the white floors before we took the picture.

Are you ready?

Drum roll please!?!

Ta DA!!!!
Kitchen Cabinets Refinished without Sandpaper
Can you see the reformation? I still have a little touch ups to do i.e. getting a hood vent, double oven, and new stove top. (But, that takes $$$ and this was a inexpensive fix.)
Kitchen Cabinets without costing a lot of money
ANYONE can do this!!! We put the kids to bed and did this in one night.
(It was a late night, however.) But, totally worth every minute!
Okay really, I could have removed the dishes and hung up curtains but this is a "real" picture. Sorry, for the tiredness.  (Is that even a word?)
Want to know what we did? So easy!!!
We didn't have enough money for new cabinets or really did not want to darken the cabinets too much, so this was a perfect solution.
You will need:
liquid sand paper (found at Hardware Store)
Minwax® Gel Stain (Walnut Color) I do wish we had gone a shade lighter.
Mineral Spirits
Instructions:
Apply the liquid sand paper with rags. This makes me the paint sticky.
We did NOT use sandpaper! We wanted it to stay white underneath.
Apply the stain to the cabinets with foam brushes.
You have to play around here to make it look the way you want.

Use mineral spirits to remove anything you don't want or to touch-up. We used a LOT of old T-shirts here. The idea is to get the gel into the crevices for effect.
Enjoy your new cabinets!
Be sure to tell me if you have done this…I like seeing different results.
My new back-splash!
Isn't it pretty plus sooo neutral? We also put in a new sink and new hardware.
The paint color is Fragrant Cloves (B24-6) from Lowes. It reminds me of University of Texas, orange. Even though we are Aggie fans – I still love it! It goes perfect with my cobalt blue.
Hope you enjoyed your tour of my kitchen today! I'm so embarrassed and must go find where the kids hid the maid.
Click on the link, Decor Gone Easy and other projects, to see some of our other works.
Tree House made out of old Fence
Chicken Coop made out of old Fence
©www.ilovemy5kids.com