Best Banana Bread Ever
I just have to share this recipe!  I had a few over-ripe bananas and I was going to make banana bread tonight.  My husband walked in the kitchen and said "Why don't you make the recipe you used last time?  It was like a pound cake."
I honestly, couldn't remember what he was referring to…but I found it typed out with no reference stashed in one of my cookbooks.  (I so dislike when I do that – you would think I would have learned by now.)
So, then I searched the name of it and found my sweet friend had posted it.
Her site has tons of yummy recipes but this one is now my hubby's favorite.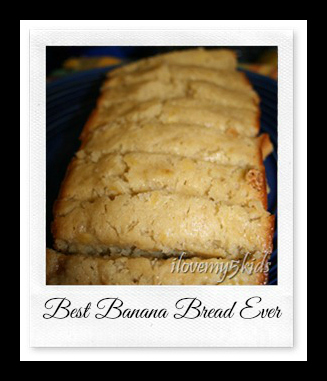 If you are looking for some family friendly recipes – check out, Jaime Cooks it UP!
Buttery Blonde Banana Bread
Adapted from Jaime Cooks it UP!

1/2 C butter, softened
1 1/2 C sugar
2 eggs, well beaten
1 C mashed bananas (about 3 ripe bananas)
4 T buttermilk
(I never have buttermilk, so I used 1/4 cup of milk and 1/2 tsp vinegar.)
1 3/4 C flour
1 t baking powder
1/4 t salt
1/2 t vanilla
dash baking soda
1. Cream butter and sugar together.
2. Add the eggs, bananas, buttermilk and vanilla.
3. In a separate bowl combine dry ingredients.
(I never use a separate bowl – but I feel that I should have typed it this way.  I don't like washing tons of dishes.)
4. Add the dry ingredients to the banana mixture.
5. Mix until just combined….don't over mix.
6. Grease loaf pans generously. I use the Spray Pam with Olive Oil – makes me feel more healthy.
Pour the batter into the pans.
7. Bake for 55 minutes at 350.  I just have to keep checking it using the toothpick method.  When it starts pulling from the pan then you kind of know it is about to be ready.
8. Cool on a wire rack or just dig into it when it is warm.
The owner and writer of this blog cannot be held responsible for bigger pants sizes needed.
Blessings to you!!!  You are loved!!!