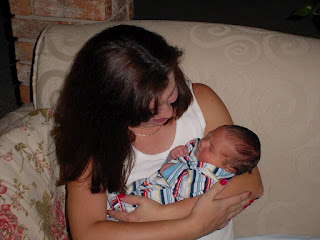 Holding my 4th of July firecracker
When I am "with child" I have morning sickness for the first three months. 
Every time I was ill or had an urge to get sick…I would use the reminders to thank God for my child.  I would also pray that God would protect him or her from by body or anything that was trying to harm my baby.
I know some of my friends fight morning sickness 24/7 for their entire pregnancy. 
Well a sweet friend gave me this recipe.  In fact, she made it for me and brought it to me in a little dixie cup.
I loved it and guess what happened?  Yep, my morning sickness ceased. 
Listen when your desperate – you'll try anything.  Plus, it is pretty easy to fix.
Morning-Sickness Be-Gone Solution 


1 1/2 c. Diced pears
1/2 c. low-fat peach yogurt
1/2 c. pear nectar
1 tsp. fresh lemon juice
1/4 tsp. grated fresh ginger
3-5 ice cubes, crushed
Combine the pears, peach yogurt, and pear nectar in a blender.
Add all the remaining ingredients.  Blend until smooth.
Makes About 2 1/2 Cups, Serves 2.
Hope this helps someone!  If not, keep praying!
Blessings to you!  You are loved!!!