Note:  This is a re-post but now with pictures.  I LURVE this dish!   
It makes my kids say "Mama-Mia!" or that could just be my imagination!
Why haven't I done this sooner?  This is one of my ALL-TIME favorite recipes!!!
One of the reasons I blog, is so my recipes can be handy to myself, if for some reason they were ever destroyed.  With a house of 7 – hey the possibilities are pretty high!
I had this at a party – before I was even married – some recipes are meant to be in your life and some are not –  but this one has stuck.
Cranberry Apple Cookie Cobbler
4 med. tart apples, peeled and sliced 1/4″ thick
1 can (16 oz) whole-berry cranberry sauce
1/3 cup packed brown sugar
3 Tbsp all purpose flour
1 tsp ground cinnamon
1 tube (18 oz) sugar cookie dough
Yep, those my friend, are simple ingredients!
Place apples in grease 9 inch square dish.  (or whatever dish with closed sides – seriously, this is not going to be graded.)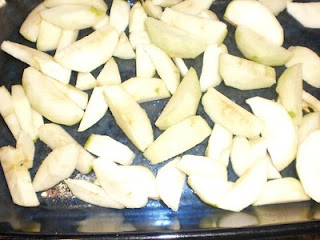 Combine sauce, brown sugar, flour and cinnamon;  pour over those babies (apples.)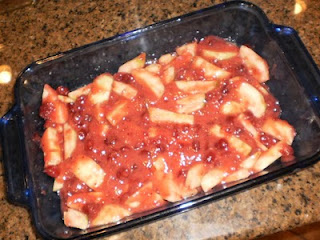 It gets better, you've got to trust me!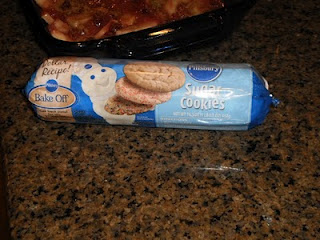 I love the dough-boy!  We are friends from waaaay – back!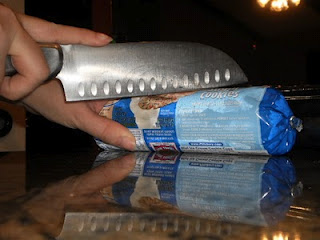 Cut cookie dough in half width-wise. 
  Refrigerate the other half of dough for a late nite snack or a treat for kids who made your bed.  (Wishful thinking!)  Heck, I eat half the dough by myself!  
I know, I know…bad for my hair  – I'll wear a hat!
 
Cut remaining dough into 1/4 inch slices.
(I didn't in the following pictures…I never follow the exact recipe – even my own.)
 Place over apple mixture.  Bake at 400 degrees for 25-30 minutes or until toppings are golden brown and apples are tender.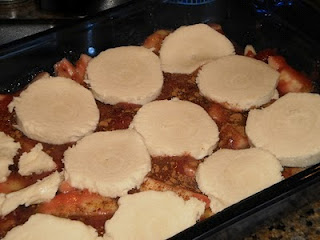 YUMMY!!!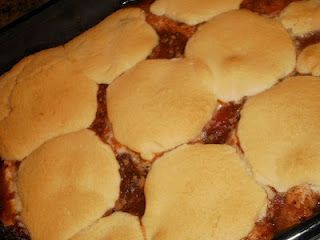 Can you say "MAMA-MIA???"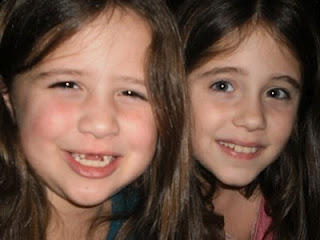 Yeah, they like it!
Blessings to you!!!  You are LOVED!!!

©www.ilovemy5kids.com