My hubby and I make last minute plans – all the time. We actually like to "wing" it.
We love when our friends do the same.
Last week, a friend called me when I was shopping for paint in Home Depot and wanted to see if we wanted to go out.  In a matter of 5 minutes, we found not one sitter but two and within 30 minutes went out (without kids)! (The big shocker – it was on a school night!)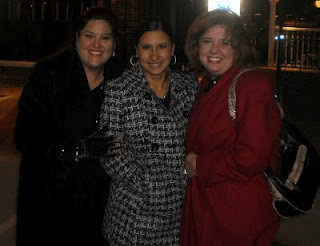 The Gals
The Guys
We are so thankful for our special friends!  It is so nice to have someone to lift you up, someone to laugh with and someone to call on in time of need.
There are some friends in our life that we can go years without speaking and then when our paths pass – it is like we never have missed a beat!  I love those friendships.
A long time ago, someone said you need a Paul, Barnabas and Timothy in your life.  A Paul will mentor you.  A Barnabas will encourage you.  And a Timothy – you will disciple him.
I can't imagine what my life would be like without all the Barnabas.  I need them!
Not fluff encouragement.  But, real encouragement that strengthens me to my inner core.  Encouragement that can only come from the Holy Spirit. 
I pray for my children to have Godly friendships.  I also pray that God will direct them to people that they can encourage others.
A man who has friends must himself be friendly,
      But there is a friend who sticks closer than a brother.  Proverbs 18:24
Blessings to you!  You are loved!
©www.ilovemy5kids.blogspot.com