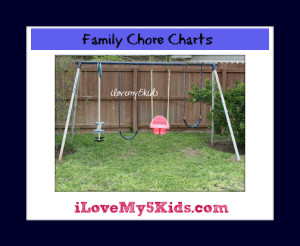 Organizing 5 kids
[wpsr_pinterest]
We have been asked two questions, numerous times by people who learn we have five children.
"Don't you have a t.v.?"
How do you manage all those kids?
Here are our answers.
For the first few years of our marriage, we did NOT have a television.  In fact, our first television – I wouldn't have even considered a "real" television.  I remember being on bed rest with my third child, watching the winter Olympics and not being able to see the scores.   I remember laughing so hard my contractions would start.  Oh, fun memories.
We manage our children, one day at a time, under the influence of the Lord.  But, certain things do help us – like chore charts!
Explanation of our Chore Charts:
We have paid our children the last few years in commissions.  They do a series of certain chores – they get paid in commissions.  If they don't do them – Mommy gets paid.  (There were 5 chores assigned to them according to age.)
For Mom – it is a win – win situation!
Keeping it real:
Lately however, the parents have become very lazy checking on the chores and have ended up paying them regardless of them getting done.  When parents get lazy – it causes more stress!
This past week, enough was enough and we made a revised Chore Chart.  We added 10 chores per child instead of the previous 5.  Already, it has caused LESS stress for Mommy!
They have to do their chores before breakfast and school starts at 9:00 sharp!
My eldest Princess cried last night "How can I get everything done?"  This morning she got up at 6:30 (on her own) and we thought she was ill.  When we asked her "Why are you up so early?" She stated, "I had a plan!"  She would normally get up at the crack of noon, if we let her.
For my 4 year old, the chores are really there to help him learn basic skills i.e. brushing teeth 2 times a day.  However, the pay helps him learn to save money to buy gum.  (His fave!)
Down below I have listed their chores:
| | | | | |
| --- | --- | --- | --- | --- |
| 12 yo | 10yo | 9yo | 6yo | 4yo |
| Bed/clean room | Make Bed | Make Bed | Make Bed | Make Bed |
| Clean Toilet | Clean Room | Clean Room | Clean Room | Clean Room |
| Load dishwasher | Get Dirty clothes | Put clean towel in BR. | Empty trashcans | Get Dressed |
| Unload Dishwasher | Clear off table | Clean of counters in BR. | Clean Playroom | Put shoes in shoe-basket |
| Sweep Kitchen/Bath | Wipe off counters | Clean Playroom | Pick up belonging | Pick up ALL cars & trains |
| Clean Playroom | Vacuum Playroom | Clean under tables | Dust (Fri.) | Pick up belongings |
| Sweep Porch | Sweep under bed | Remove dishes | Push in all chairs | Put liners in trashcans |
| Feed Dog am/pm | Feed fish. | Clean nuke box | Get all dirty dishes | Brush teeth am/pm |
| Put up food – pm | Sort Dirty Clothes (Fri.) | Wipe off sinks | Water plants. | Turn on fish lights |
| Straighten Books | Clean Mirrors (Wed.) | Dirty clothes out of BR | Brush teeth am/pm | Kiss Mommy! |
They are constantly being revised according to the need and the child's ability.
The kids do not have to do them on their birthdays and still get paid.
They are welcome to do other kids' chores if they would like to "bless" their sibling.
If they are not completed, Mom gets the money!
Dad handles pay day!
They have to split their commissions into 3 parts.  Saving, Spending and Giving.
Does it work?
My daughters have bought their own television/dvd combo for their room.
My sons have bought their own Nintendo DS'.
They think twice or three times about buying useless junk versus something they really want.
They now the power of giving because they "earned" their own money.
They get up earlier on their own.
They don't "beg" for candy in the grocery lane.
My eldest has made himself a budget for the entire year and knows what he can buy.  I would say most adults are not this organized with their funds.
They are being prepared to being in the "real adult" world.  If I don't do my job – I don't get paid.
They also buy gifts for one another and truly are thankful when they receive gifts because they know someone had to "work hard" to buy it.
I hope this encourages someone today!  It truly has been life-changing in our household.
What works for your family???
Blessings to you!  You are loved!
Did you know ilovemy5kids also has a Facebook page?  You are welcome to "like" it!
Linking with: