Our DIY Chicken Coop made out of an old fence!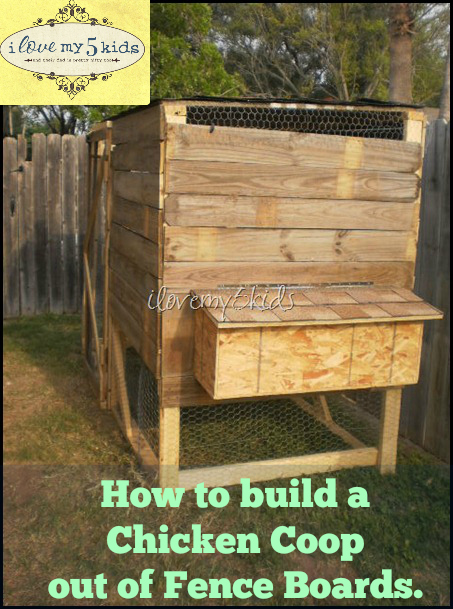 I should mention, this is what we did with photos…I will ask hubby to make instructions later.
We now our Chick Farmers.
Well, not really.
We live in the city.  We own chicks.  We have a
garden
.
But, the word Farmer is far from what we are.  We have no idea what we are doing.  Does Lucille Ball come to mind?  Yeah, me neither.
My hubby and eldest son made this chicken coop.  I love seeing them work together!
My hubby doesn't read instructions.  My son reads encyclopedias.   Yeah, it was fun to watch!
He enjoys power tools like his Dad.  This tool is so cool – it is part gun!  Yeah, I got to shoot it.
These guys could make "anything" out of old fence boards.
And they have!
Look at our
Kid's Fort
or our
Fence
.
We'll never say no to
free
old lumber. 
We wanted to make sure our Chicken Wire was small.  I had researched and researched where little things could crawl in the wire and murder all the chickens.  We will not be held liable for Chicken-murders.
I love how it looked framed.  Progress!
I love how my hubby made this door!  I just thought it was so "Little House on the Prairie-ish."
The Lid to get in the "Chicken Nests".  The job my kids will fight over, I'm sure.
Home-made Chicken Nest Boxes  – We might lay them with something to make them easier to clean out. 
The Chicken Wire…notice how small it is.  If you are like me, you may have never noticed wire before…or cared.
Are you my Ethel?
Notice the Sweet Hotel for our chicks!
I'm thinking the Chicken Ritz!
The FINISHED Product!
(Except for the décor, chickens, and fragrant flowers to mask any un-wanted odors.)
So, what do you think?  Not so Lucille Ball!
More like Green Acres!
————————————————-
Our chicks have arrived!
Their names are:
(which are subject to change once they go in the Big House…aka the Coop.)
Potpie, Fajita, Dumpling, Casserole, Noodle and Paula Deen.
No we are not going to eat them!  Well, their eggs.  But, not them!
We are not really sure what these are!  The store didn't know either.  They might be Delaware.
All 6 chicks!  (This is all our city will allow.)
These are the black chicks.  We think they may be Bantams.
For my Ethels – Bantams are just smaller chickens.  Their eggs are much smaller.  
These are the Production Reds.  They are a cross between New Hampshire Reds and Rhode Island Reds.  They are supposed to be heat tolerant and good egg layers.
They are penguin looking to me, what do you think?  I know my Lucille Ball is coming out – penguin looking chicks? 
This one reminds me of Paula Deen – the color of Butter.
They do not like the camera's flash.  Or they were acting shy.  Or maybe they were being "chicken!"  hehe!
Stay tuned for further updates from the
Nut,
City Slicker's
Chicken Farm!
Blessings to you!  You are loved!
Partying with: