We've been busy. We have been doing a DIY. (We as in Sweet Hubby, 3 sons, 2 Princesses and me.)
By the end of the day, we are crawling to bed.
This is how it started, I left for a weekend in Dallas a few years ago.  I came back and saw this. A wall was partially missing in my bedroom going into the office.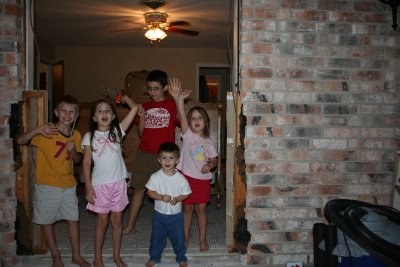 5 kids and a Hubby get in trouble when Mom leaves town.
Lesson learned:  Never leave Daddy alone with 5 kids without a to-do list or he makes his own.
Click this link to see the Entire Office Remodel. 
We have learned a lot.
Like my kids never wear shoes for pictures.
Please know that our family does follow safety procedures in a reasonable way, although the pictures do not reflect that  in some instances and we would never allow our children to be in harm's way intentionally or non-intentionally. Shoes or no shoes.
Then we had this…the finished project. (Almost)
Except  we didn't know that we were going to tile our whole house. Tiling is one of my Fave things to do.  It is right up there with shopping and drinking coffee.
Since my hubby has been on vacation this week, I'll show you the progress we have made.
No carpet. Cider Toddy Walls.  
Adorable Paint Crew – My how they have grown.
A little hands on teaching moments.  Our kids love to paint!
Walls are now Glazed Pears.
Before and After Paint
Tile is Almost Complete
 We are almost done with this room.  Then we start on making our own DIY trim for the entire house.  Can't wait!!!
Sign up for email updates to make sure you see the finished project.  You can also follow along on Twitter, Facebook or the RSS feed.
Blessings to you!  You are loved!
 


 ©www.ilovemy5kids.com