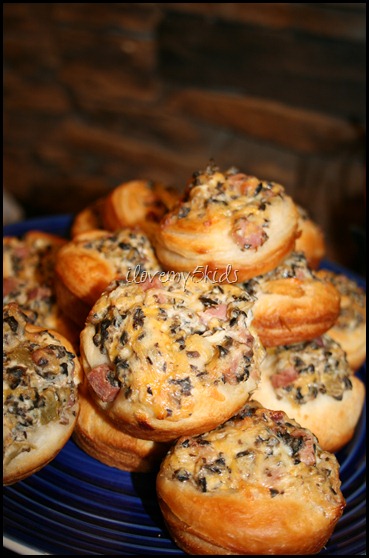 [wpsr_pinterest]
A friend of mine (who actually is from Florida – go figure –  gave me this recipe a long time ago.)
I tweaked it for my liking and what I had in the cabinet.
She is still my friend, I think, even after changing her recipe.
They are super easy and super fast – two things that are priority, for me, in the kitchen.
I made up the name – because she didn't have one.
And we are in Texas.
Plus, they have a tad kick to them.
1 – 2  cans of Flaky Biscuits (or any of your choosing)
Package of Cream Cheese
1 small can of chopped black olives (or green)
1 small can of diced chilies
1 package of shredded Mexican Cheese (or something like that.)
1 to 2 cups of diced Turkey Ham (I brown mine.)
[easy-share buttons="no" counters=0 native="selected" show_fblike="yes"]
Depending on what type of biscuit you use is how many cans you need.  If you use Grand or Super Large biscuit, you will probably just need one.  If you use flaky biscuits – you'll need two.
In a a bowl, make your filling by mixing all the ingredients.  You can taste it.  It is wonderful.
Take the biscuits and smash them flat in your hands. Then I put them in a muffin pan. Push a well in the middle for the filling.
Spoon about a Tablespoon or more or less or whatever you choose and fill those biscuits!  (This will not be graded – feel the freedom to do as you choose!)
My blonde child – couldn't quit eating these.  He BEGGED for more!
I baked them at 350 until they were lightly brown.  Maybe 9 to 11 minutes.
Next time, I might try them with ham, cream cheese, and cheese biscuits.   
The possibilities are endless!
These are even good a few hours left on the counter.  And even the day after.  I guess you could heat them up in the microwave but we never have had any leftovers.
Tell me if you try them.  Or what you did different.
Please feel free to [wpsr_pinterest] – that would totally make my day, week, month and even year!  (I'm easily amused like that!)
[easy-share buttons="no" counters=0 native="selected" show_fblike="yes"]
Blessings to you!  You are loved!