Going on a roadtrip is in my Top 3 Things to do with my family!
Going on a roadtrip to a Homeschool Conference would be in the top 10!
Why do I love Homeschool Conferences so much?
I need encouragement. There is no better place for a distraught, lonely, and "wondering if I am doing the right thing for my child" Mom than a homeschool convention. The conference is jammed packed full of inspirational workshops, mentors who have been down this road and survived and support for those who may have questions that no one else has been able to answer.
Homeschoolers need to see, feel and touch the books. I haven't met a homeschooling teacher yet who doesn't like to fan through the pages of an upcoming book that is going to be consumed for an entire year. THSC has an amazing list of exhibitors.
My husband and I use the homeschool conference as a date, which saved our marriage when the kids were younger. Hello! Usually, we drop the kids off with the grandparents but this year they will be in the one of many activities.
I have been attending Texas homeschool conferences since I was in high school – that was over 20 years ago and before it was called the THSC in the Houston area.  They never disappoint me.  I always leave inspired and excited about a new year of teaching.
 Speaking of kids' activities – THSC Convention has so many opportunities for young people while the parents attend workshops.  From the Kid's Convention & PreTeen Program to the Teen Staff Program, they have just about have something for everyone.
This year they are also having a special Homeschool Blogger Meet-up!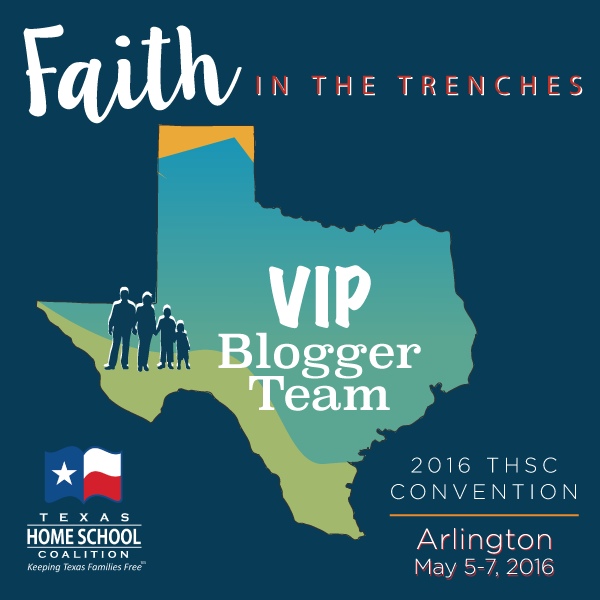 Meet the VIP Homeschool Blogger Team!
1. Heather of Sprittibee
2. Lana of iLoveMy5Kids (That's me!)
3. Jasmine of Ponder the Path
4. Esther of Laugh With Us
5. Betsy of Family Style Schooling
They plan to give every homeschool blogger that comes to their conventions this year the following:
1. 20% off their tickets and ALL EXTRAs & Children's programs – that's 20% across the board at checkout on the registration page!
2. A chance to network IRL (in-real-life) with other local bloggers (and snacks) if you attend the Homeschool Blogger Special Fellowship hour from 2:30-3:30 PM Central on Saturday in Arlington (more info on The Woodlands later)
3. A chance to have your blog listed on the Texas (or friends of Texas) homeschool blogroll on their website just for showing up at the Saturday social and coming to the convention.
4. Promotion of your blog posts if you are listed on the blogroll and inclusion on a special THSC Homeschool Blogger facebook page where you can do some online networking with all the ladies you met in real life at THSC this year! That means you'll have ongoing friendships and promotion of your material long after the conference is over!
Here's all they ask you to do if you want to get involved:
1. Snag one of the buttons on this page (or go copy the code on their own site – once they have their blogger page up and running!) and place it in your blog's sidebar until after the conferences are both over for 2016. You can link these buttons to the following website url:
http://www.thsc.org/events/texas-home-school-conventions/
Here are the buttons. To download, just right click and select download image. Then upload it to your own WordPress or blog image hosting service for you to place in your sidebar and blog posts along with the link above. If you have any questions or need to know how to resize them with a quick html cheat, feel free to email me!
2. Go register for the conference of your choice (either Arlington or The Woodlands) with the homeschool blogger 20% off code: BLOGGER2016
3. Set the date on your calender with a reminder to be at the Homeschool Blogger Special Fellowship at 2:30-3:30PM Saturday, May 7th (if you are coming to Arlington's conference… and I'll update this post later with the exact time for the one for The Woodlands).
4. Fill out this THSC Homeschool Blogger Google form AFTER you register so we can add you to the THSC Facebook blogger group and their Texas (or surrounding state) homeschool blogroll on the THSC website!
5. Use these hashtags (at least one or two per post, alternated) with your social media shares so we can follow you online and share your posts: #THSCConventions, #THSCKnowsTX, #THSC
That's it. All you have to do after that is show up and bring your business cards and a smile to share with all of us homeschool bloggin' mamas who want to meet you IRL!
Blessings to you!  You are loved!