Do you ever walk into someone's home and instantly the fragrance takes you back to a time when your Grandma used to hang her laundry on the clothesline and your Grandpa listened to the baseball game on the radio? These cookies do that for me. Yet, I never remember her making these particular ones. She probably did or still does for that matter. YUMMY!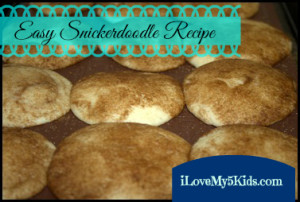 [wpsr_pinterest]
[recipe id=""]
Easy Snickerdoodles
My kids and hubby love these cookies. They are so yummy and probably not on any weight watcher diets.
Not to mention – SOOO EASY!
1/2 cup margarine
1/2 cup shortening
1 1/2 cup sugar
2 eggs
2 3/4 cup flour
1 tsp baking soda
1 tsp salt
2 tsp cream of tarter
1/4 cup sugar
4 Tbsp cinnamon
Preheat oven to 325 degrees. Cream margarine, shortening and sugar. Add eggs and mix well. Combine flour, soda, salt, cream of tarter in separate bowl then add to creamed mixture.
(Don't tell anyone but I just add it in not using a separate bowl. Again – I'm liberated this way.)


Then combine sugar and cinnamon in a small bowl.
Roll dough into small balls. I flatten them out just a little then coat with cinnamon mixture.

Put on cookie sheet, pizza stone or whatever you like to bake cookies on and bake for 8 to 10 minutes. It supposed to make 3 dozen. But, if you make them like I do – you won't get that many. Make them how you want to – it's okay – they still will melt in your mouth.
[/recipe]
This makes your house smell AWESOME!!!
This is what WORKS FOR ME!
I also posted it on WORKS FOR ME – Gift Edition.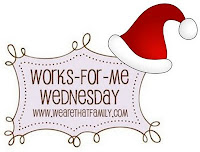 Blessings to you! You are loved!