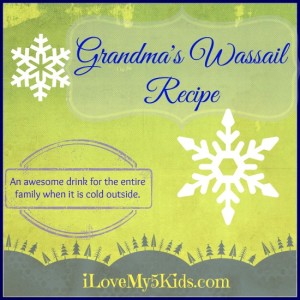 Talking to my Grandma sometimes makes me want to wet my pants.
Our conversations go something like this…
[quote]Me:  "Grandma, I'm calling for a recipe… I don't have your Wassail recipe."
Grandma:  "Waffle???"
Me:  "No, Wassail!  Wassail!"
Grandma laughing:  "I don't make waffles."
Me bent over from laughing back so hard and glad I have a strong bladder:  "Grandma!  Wassail!  Wassail!  Wasssssail!"
Grandma (not sure about her bladder at this point):  "Oh, Wassail!  I thought you said Waffles!  Hold on – I'll get it."[/quote]
I love my Grandma – she makes me laugh so hard plus her wassail is AWESOME!
She has made it for me for many years.  It is great for those cold winter days and nights.
This year I will try to make it in the crock pot!  YUM!
[recipe id=""]Grandma's Wassail
by: iLoveMy5Kids.com
1/2 cup sugar
2 cups water
6 cinnamon sticks
7 whole cloves
Simmer the above ingredients for 15 minutes.
Then add:
1 cup lemon juice
1 cup pineapple juice
4 cups apple juice
4 cups water
Simmer all DAY!  Oh – it makes a LOT!  YUMMY![/recipe]
Blessings to you!  You are loved!!!