Staycation Ideas for Rio Grande Valley Texas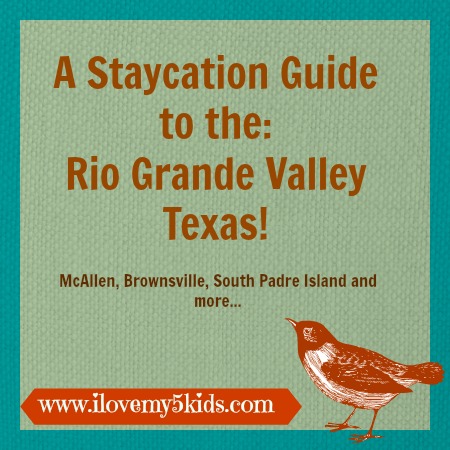 The Rio Grande Valley, located in South Texas has so many places to visit.  Although, temperatures stay in the high 90's or low 100's most of the summer – there are still lots of affordable places for families to go and things to do!
[easy-share buttons="no" counters=0 native="selected" show_fblike="yes"]
A Staycation is like a vacation but you "stay" in your area.  If you don't live in the Rio Grande Valley, come back tomorrow for a list of over 75 areas that list Staycation ideas.
We find so many jewels in our travels, especially in Texas.  These are just some of the places we have visited (and want to visit) in the Rio Grande Valley.
 Take a look at our Updated 2014 Staycation Guide for the RGV!
Places to visit and things to do in the RGV
[wpsr_pinterest]
Nature lovers:
Bird Watching  – The Rio Grande Valley is known for being the top birding place in the country.

World Birding Center has nine locations.  A great place to learn about the 500 species of birds in this area.
 A free checklist for you and your family is a fun way to draw awareness.  Just see how many you have in your backyard.
Butterflies – The Rio Grande Valley has over 200 species of different butterflies.
National Butterfly Museum  – A fun place to see and learn about butterflies.
A free how-to grow your own Butterfly Garden Guide.
A free checklist for Butterflies.
Sea Turtles, Inc – Great little place to visit and learn about turtles in South Padre Island.  Most of the turtles are being rehabilitated.
Grow-n-Growers – A place to know what to plant and how to make dishes native to this area.
South Padre – Every Sunday. 11 AM – 1 PM, The Shores
Museums in RGV
Reading Programs
Art
Just for fun!
Water Fun
El Sal Del Rey (A Salt Lake)
McAllen Splash Park – FREE
Located at 29th and Zinnia
in North McAllen
Schlitterbahn Water Resort
South Padre Island Visitor Guide and Beaches
 The Rio Grande Valley is full of exciting things to do. I cannot be responsible for the websites that have been listed here, at time of publishing all websites were very helpful in providing information for those visiting.
I'll be adding more to this page as more information becomes available.
If you are staying home this summer, how are you enjoying your "Staycation"?
Take a look at our Updated 2014 Staycation Guide for the RGV!
Blessings to you!  You are loved!