I pray.
All the time.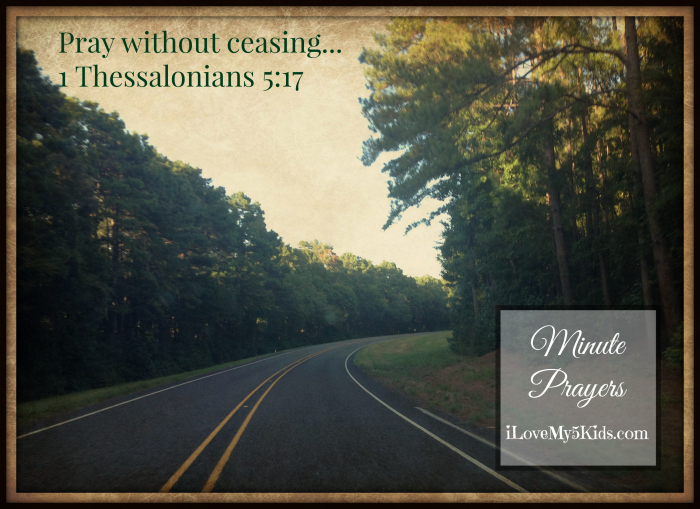 They are usually short minute prayers – here and there.
I've always done this since I fell in love with Jesus when I was 7 or so.
Certain things, places or smells remind me of a certain stories.  When they come to my remembrance – I use them as way to springboard a prayer, so to speak.  I call them a minute prayer.  But, they are probably more like a few seconds prayer.
When I see an airplane, I think of my eldest son.  His dream is to become an aeronautic engineer.  So, if I happen to be driving and see a plane – I will pray for him.  Nothing drawn out.  Usually it will be – Lord, please show Him Your Glory and give Him Your wisdom today.
Another prayer might be when I see my overworked husband's tool that he left on my dining room table – I TRY (as I grit my teeth that he left another tool in the kitchen but hey – we are remodeling – grace abounds) to pray that he would be encouraged today by someone other than a family member.  (This doesn't happen very often in his line of work, so when it does it is a complete blessing!)
As I do laundry, I pray for each family member as I wash their clothes.
I also pray for complete strangers.  If you have a bumper sticker that I can't see the words – I pray for your eyes to be open to Jesus.
I pray for our postman or post lady every time I open the mailbox.
I pray for my Facebook friends – if they post something weird or just have a comment – I ask the Lord to bless them and to show them more of Him.
I also pray for you.
Again, nothing fancy.
Just like sweet text messages to the Creator of the Heavens and the Earth.
I love that He hears every one of them.  He is kind like that.  I know He will never get tired of my incessant rattling on.  He loves that His child wants to talk with Him.
Blessings to you!  You are loved!